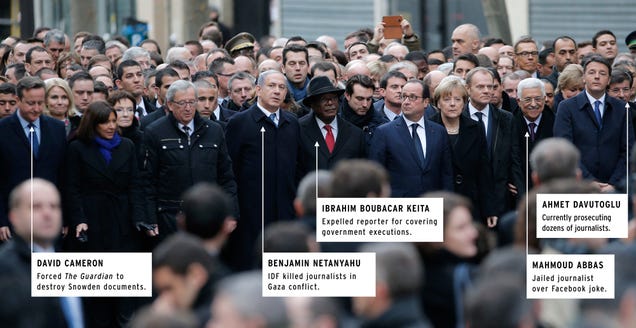 On Sunday, 3.7 million people gathered all over France to mourn the lives of those killed in last week's Charlie Hebdo attack. It was almost a moving collective stand for freedom of expression in the face of terror and fear—except that its most prominent supporters are much greater threats to a free press than terrorism.
As the non-profit Reporters Without Borders noted on Sunday, and as London School of Economics Middle East Society co-president Daniel Wickham elaborated in a widely disseminated series of tweets, the world leaders given prominent photo-op placement at the Paris rally are not only free-press hypocrites—they're by any measure worse threats to the world-changing possibilities of a free press than a couple terrorists with guns.
Your murderer's row:
U.K. Prime Minister David Cameron
In 2013, the British prime minister publicly threatened to use court injunctions against newspapers that published information from the Edward Snowden leaks. When the Guardian published anyway, technicians from the GCHQ arrived at the newspaper's office and forced editors to destroy their hard-drives with angle grinders.
Israeli Prime Minister Benjamin Netanyahu
In July, Reporters Without Borders detailed what it called the "deliberate targeting" of news professionals with arrests and intimidation by Netanyahu's Israeli Defense Forces in the 2014 Gaza conflict. The next month, Palestinian photojournalist Rami Rayan was found among the dead after an IDF rocket attack on a Gaza marketplace. He was wearing a vest marked "PRESS."
Turkish Prime Minister Ahmet Davutoğlu
Turkey imprisoned more journalists than any nation in the world in 2012 and 2013. China officially took its seat last year, but many more reporters remain behind bars, and Prime Minister Davutoğlu's government is currently prosecuting nearly 70 journalists who covered a recent corruption case.
Palestinian President Mahmoud Abbas
Mamdouh Hamamreh, who works for the Palestinian TV station Al-Quds, joked on Facebook that Palestinian President Abbas looked like Fayez Kazak, an actor who played a spy on a popular TV show. For that, he was sent to jail. (They do look like each other, for the record.)
King Abdullah II of Jordan
Last year, Mudar Zahan was sentenced to up to 15 years hard labor in prison for publicly criticizing the state. Zahan was granted asylum in the UK, where he currently lives.
Malian President Ibrahim Boubacar Keita
French journalist Dorothée Thiénot was expelled from the city of Gao, where she was living, after reporting on the Malian army's executions of suspected Islamist militants.
Sheikh Mohammed bin Hamad bin Khalifa Al Thani of Qatar
Qatari poet Mohammed al-Ajami was arrested in 2011 and sentenced to life in prison for writing a poem that allegedly insulted Emir Hamad bin Khalifa Al Thani. His sentence was later shortened to 15 years.
Slovenian Prime Minister Miro Cerar
In 2013, Slovenian blogger Mitja Kunstelj was sentenced to six months in prison for "defaming" and "insulting" two fellow journalists on his blog.
Irish Prime Minister Enda Kenny
In Ireland, blasphemy is a criminal offense.
Polish Prime Minister Ewa Kopacz
Polish law enforcement officials raided the office of the magazine Wprost after it published a secretly recorded conversation between two government officials last year.
Saudi Ambassador to France Mohammed bin Ismail Al Al-Sheikh
In May, Saudi blogger Raif Badawi was sentenced to 10 years in prison and 1,000 lashings for "insulting islam." He was flogged in a public square in the city of Jeddah just two days before the rally.
Greek Prime Minister Antonis Samaras
Photojournalist Tatiana Bolari was beaten by riot police at a demonstration in Athens last year, even though her gear "clearly identified her as a journalist," according to Reporters Without Borders.
Egyptian Foreign Minister Sameh Shoukry
Two Al-Jazeera journalists were sentenced to seven years and jail and one to 10 years in jail after they covered the ouster of former Egyptian president Mohamed Morsi and subsequent demonstrations.
Russian Foreign Minister Sergey Lavrov
Russia famously banned LGBT "propaganda" in 2013. Last year, officials arrested a journalist for interviewing an advocate of Siberian independence.
Algerian Foreign Minister Ramtane Lamamra
Algerian authorities jailed radio journalist Abdessami' Abdelhai for 15 months without charging him after he allegedly helped a newspaper editor flee the country. The editor had been charged with "endangering national security" because he publicly discussed president Abdelaziz Bouteflika's health.
Here, Wickham points to several other noble defenders of expression who had the courage to attend the rally. U.S. officials were notably absent, but had they showed up, rest assured that they would have made the list too.